Meet Our Team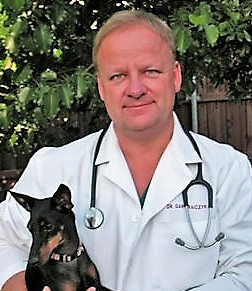 Dr. Gary A. Raiczyk
Owner & Veterinarian
Dr. Gary A. Raiczyk is the owner and staff Veterinarian at Angel Parkway Pet Hospital.   He has been serving the pets of North Texas for over 20 years and has experience as a previous owner, associate veterinarian and emergency clinician.  He is a graduate of the University of Pennsylvania School of Veterinary Medicine and has also spent time at Texas A&M College of Veterinary Medicine interviewing students and helping on the Ethics forum.
His special interests are internal medicine, dermatology and surgery. Dr. Raiczyk is a member of the local, state and national veterinary medical associations, and keeps current on all new advances in veterinary medicine through continuing education seminars, journals and online reading.
Dr. Raiczyk has been a past recipient of a "Veterinarian of the Year" award from a local veterinary association, and has been a past director of Golden Retriever Rescue of North Texas and Search One Rescue.
Outside of the hospital, Dr. Raiczyk enjoys spending quality time with his wife and two daughters. He also enjoys travel, music and sports, in addition to caring for his 2 cats and 2 dogs.
Dr. Sarah Byrd
Veterinarian
Dr. Sarah Byrd grew up in Lucas, Texas and is a 2017 graduate of Texas A&M University with her doctorate of veterinary medicine. She loves practicing on all animals and expanding her knowledge in all aspects of veterinary medicine. Dr. Byrd enjoys hiking, fishing and being in the great outdoors with her husband Cameron and their two dogs, Delilah and Winters. She also enjoys pleasure riding her retired barrel horse Napoleon.
Tiffany Burris
Office Manager
Tiffany grew up on a small farm in the town of Greenwood, Arkansas where she played varsity soccer, participated in many clubs, and graduated with honors.  She worked at a veterinary clinic in her hometown while pursuing degrees in Accounting and Business Administration. After being in the business world for almost a decade, and moving to Texas in late 2015, she decided to get back into the veterinary realm where her love for animals can thrive.  Tiffany enjoys spending time with her husband, Doug, her English Bulldog, "Radio", and family that lives in the area.  Her interests include running her Scentsy business, watching Doug race fourwheelers, watching a good soccer match and traveling any chance she gets.
Hi there! My name is Liz and I have been a vet tech for 7 years. In that time I've worked with all kinds of critters and have loved every minute of it! Coming from Florida, I love fishing and sailing. Horseback riding, hiking, and painting are a few more of my favorite pass times… when there is time to pass haha. My husband and I have 3 kids. A human daughter named Alice and 2 fur kids named Roxie(an Australian Shepherd mix) and Riley(he is just a Heinz 57).
Whitley Wilson
Receptionist
Hi y'all, my name is Whitley! I have a Bachelors in Animal Science and love animals.  I have five dogs: a red lab named Diesel, a boxer mutt named Pixel, two silver labs named Jesse and Miles, plus a corgi mix named Sadie.  When I am not working I like to hang with my pups; whether that is going running, out to the park or just lying around watching TV.  My parents dogs had their puppies here at Angel Parkway Pet Hospital and I did my internship for my veterinary assistant certification here as well.  I can't wait to meet you and your babies!
Stephanie Freeman
Technician
Hello! My name is Stephanie. I have been a Vet Tech for since 1996 and it's the best job in the world. All of my experience comes from hands on training in general , emergency, and internal medicine practices. In my free time, I'm busy with my daughter and her softball team. We really enjoy spending time at the lake doing extreme water sports and hanging out with friends and family. I have 3 furry kiddos; an orange tabby named Thor, a Maltese named Hurley, and a springer spaniel named Sadie.

Shawnda Johannsen
Technician
Hello, I'm Shawnda.  This is the third clinic that I've worked at with Dr. Raiczyk; I have a B.S. in Biology from UNT and have been working in the veterinary field since 2006. I am originally from California; I have a son named Connor and four cats. I enjoy doing volunteer work with some of the wildlife rescues in the area, as well as helping out with the prairie restoration project in Lewisville. My other hobbies include going to rock concerts, being outdoors & working in my vegetable garden. I love food and coffee; I am super passionate about the environment and Cavalier King Charles Spaniels.
Rachel Helton
Receptionist
Hello! My name is Rachel. I grew up in Antioch, Tennessee on 8.5 acres. I have had a passion to work with animals both wild and domestic all my life! I am a licensed Wildlife Rehabilitator for Texas Parks and Wildlife. I spend my days taking care of your fur babies and at night I spend most of my time with my Wild babies. I also have a degree in Medical Assisting. My family and I have a sweet Service Dog named Nika, a Bearded Dragon named Spiky, and 2 fish named Batman and Superman. I have many years experience working with animals of all kinds. When I'm not rehabbing or working I love to enjoy hiking, fishing and camping (really anything that has to do with the outdoors) with my family. I can't wait to meet you and your furry family member!
Brooke Nelson
Receptionist
Hey y'all, my name is Brooke! I was born in Kansas, but have lived in the area since I was six. I am an Allen High School graduate & I am in the process of getting my Veterinary Assistant Certificate from Pima Medical Institute. I have two fur babies, who are my pride and joy, Boomer (a 3 legged Yellow Lab) and Bella (a Chocolate Lab). When I am not at work I love to go to the shooting range or hang with friends and family. I can't wait to meet you and your fur babies!
Courtney Perry
Technician
Hey there, my name is Courtney! I am a recent graduate from Texas A & M University Commerce where I received my bachelor's degree in Animal Science with a concentration in Pre-Veterinary Medicine; I am currently applying to veterinary school (YAY!!). My boyfriend and I enjoy snowboarding and traveling when we can, plus hiking and canoeing with our dog, Aero. In addition to our dog, we also have two cats named Sly & Sophie.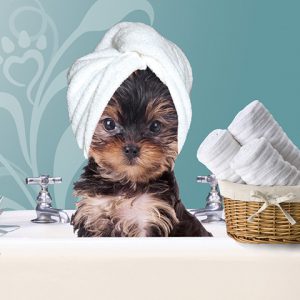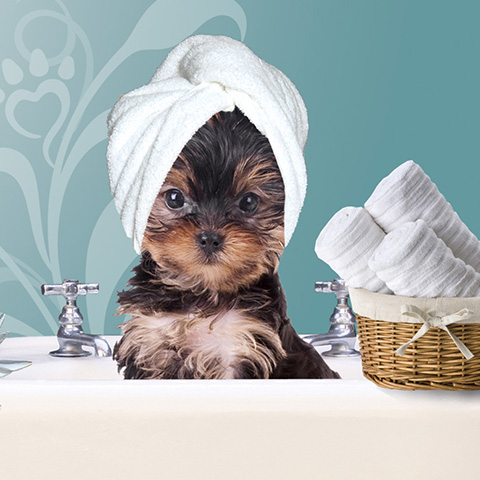 Taryn Andreas
Pet Stylist